The sound quality of most TV sets can be disappointing, making it difficult to fully immerse yourself in your favorite movies and shows. Soundbars offer a solution to this problem, but they can be expensive and take up valuable space in your living room.
If you're in search of the best soundbar for your Samsung smart TV, you've come to the right place. We've put together a guide to help you find the perfect solution for your needs. We've included our top picks and reviews of various models to make the selection process easier for you.
BEST OVERALL
1
SAMSUNG HW-T450
Features
Automatically optimizes sound
One remote control simplifies operation
Aesthetically pleasing design
Cons
No HDMI inputs/outputs
EDitor's Pick
2
Bose Smart Soundbar 300
Features
Built-in Alexa
Apple AirPlay 2 Connectivity
5 full-range drivers
Compatible with other Bose products
Cons
Not compatible with some older TV models
Budget option
3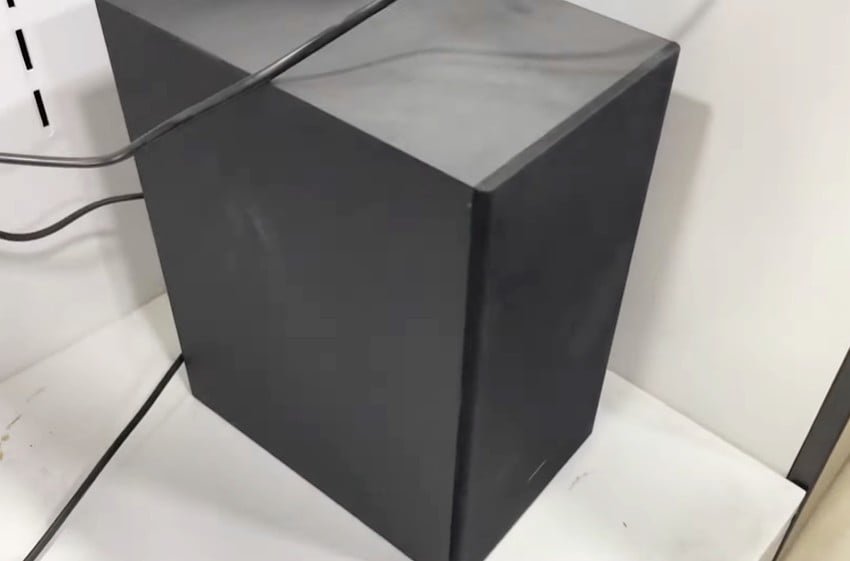 Samsung HW-A450/ZA
Features
BASS BOOST feature
GAME MODE
All-in-one mounting options
Cons
Only one USB port available
Say goodbye to poor sound quality and hello to an enhanced viewing experience. Our guide includes everything you need to know about budget soundbars for Samsung TVs. We've done the research so you don't have to waste time reading dozens of different product descriptions yourself.
In this guide, you'll find information on different features, specifications, and pricing to help you make an informed decision. With our help, you can find the perfect soundbar to complement your Samsung smart TV and improve your overall viewing experience.
Reviews of Best Soundbar for Samsung Smart TV – Our Top Picks
Soundbars are the best way to get great sound out of your TV, but they can be hard to pick. There are so many models and features available that it's easy to feel overwhelmed.
We want you to have the best soundbar for tv, which is why we put together these recommendations for buying a soundbar for Samsung TVs. Our goal is simple, make sure you end up with a model that fits your needs and budget without feeling like you've wasted money on something unnecessary or underpowered.
So here are the products that we have picked.
SAMSUNG A450 Soundbar (Best in the Low Budget)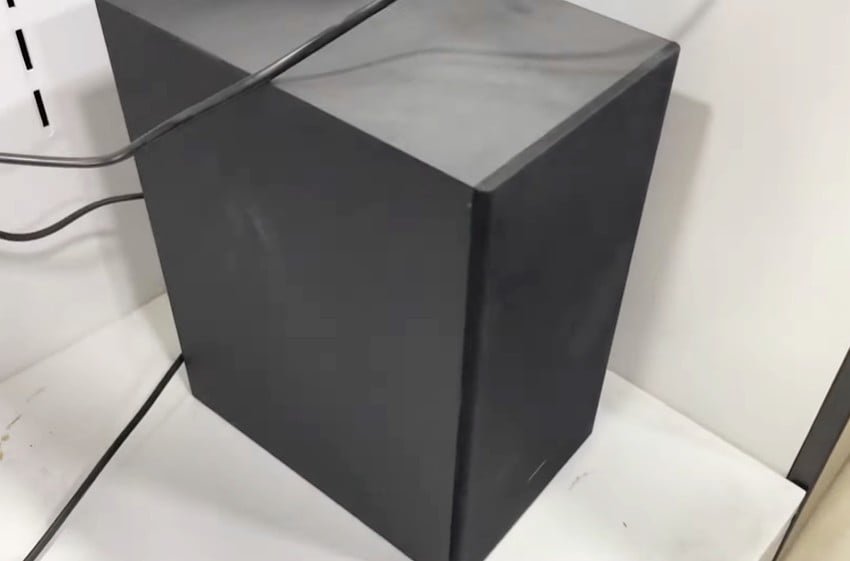 Are you ready to elevate your TV-watching experience? Look no further than the SAMSUNG A450 Soundbar! This 2.1ch speaker system is the ultimate addition to your Samsung smart TV, and it won't break the bank at under 200 bucks (At the time of writing).
First off, let's talk about connectivity. With Bluetooth capabilities, you can easily stream music from your smartphone or any other Bluetooth-enabled device. And, the wireless subwoofer gives that extra oomph in the bass department, making for a truly immersive experience.
But it's not just about the bass. The enhanced audio tracking technology ensures crystal clear sound for all your favorite content, whether it be dialogues, music, news, or sports commentary. And, the game mode feature takes it to the next level with a realistic gaming experience.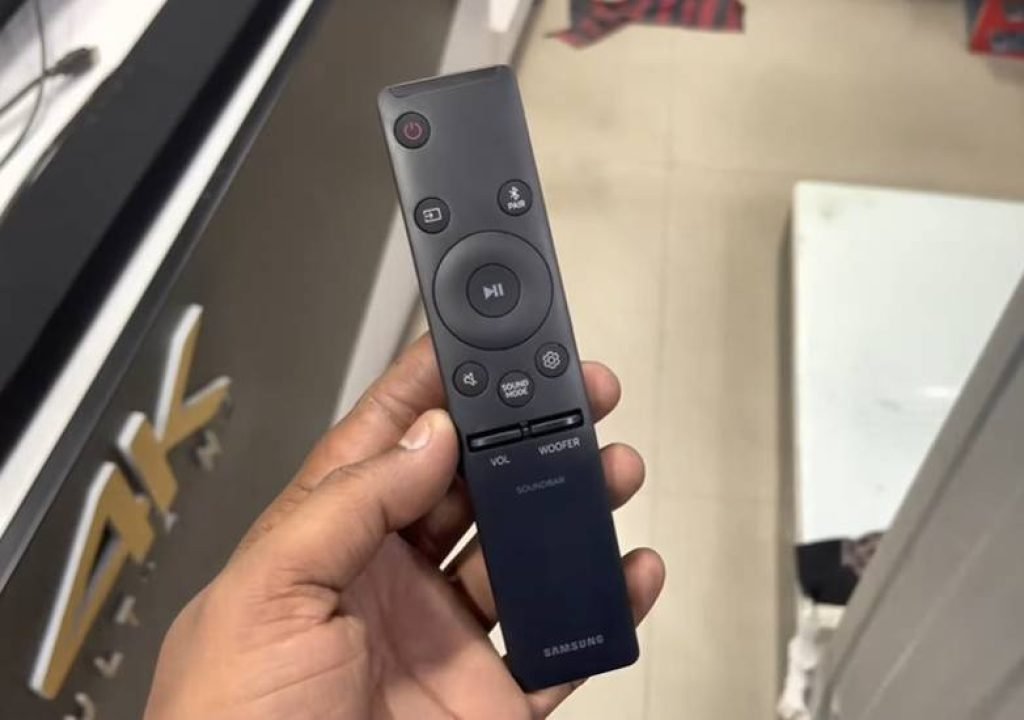 And let's not forget about the handy remote controller. Adjust the volume, change the input source, or mute the sound with just a few clicks. Plus, the optical cable allows for easy connection to your TV and the wall mount kit makes set up a breeze.
But wait, there's more! This soundbar is compatible with wireless surround sound systems and even comes with a battery for the remote controller so you never have to miss a beat. And, with its lightweight design, it's easy to move from room to room.
VERDICT:
Overall, the SAMSUNG A450 Soundbar is a great option for anyone looking to enhance their TV-watching experience.

The sound quality is impressive, the Bluetooth connectivity is seamless, the game mode feature is a standout, the remote control is user-friendly, the set up is easy, and the battery feature is a nice added bonus.
Positive
Easy to setup
Wireless subwoofer for clear bass
Sound optimized for various content
Enhanced audio tracking technology for high-speed
Negatives
Not efficiently compatible with other TV sets.
SAMSUNG HW-T450 soundbar (Best Overall)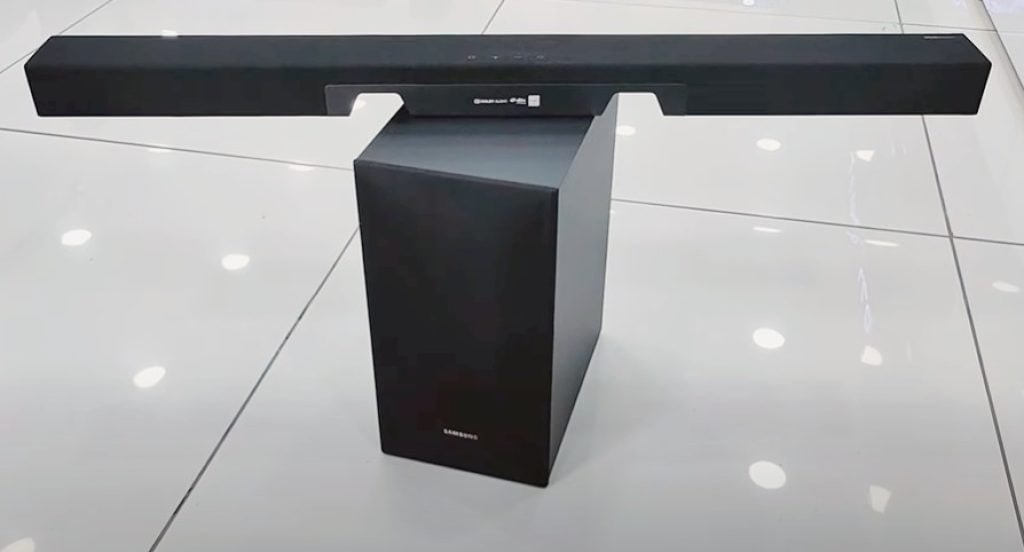 Get ready to elevate your TV and music listening experience with the SAMSUNG HW-T450 Soundbar! This bad boy is the ultimate upgrade for your living room setup. Not only does it boast a sleek and stylish design with brushed metal, glossy black, and silver accents, but it also packs a powerful punch with its wireless subwoofer for some seriously kickin' bass.
But it's not just about the looks, folks. This soundbar is packed with sound options, including Movie, Music, and Clear Voice modes, so you can tailor your audio experience to whatever you're watching or listening to. And the Bluetooth connection is lightning fast and strong, so you can stream your favorite tunes without a hitch.
But the real cherry on top? The crisp voice and clear dialogue feature, so you'll never miss a word of your favorite shows or movies again. And for the gamers out there, the soundbar even has a "Game" mode for an immersive and realistic gaming experience.
But don't worry about fumbling with complicated hardware during installation, because the SAMSUNG HW-T450 is a breeze to set up. And the included remote control and user manual make adjusting settings and volume a breeze from the comfort of your couch. Plus, with a 2-year product warranty from Samsung, you can trust in the quality and durability of this soundbar.
Sure, it may be a bit more pricey than other options on the market, but trust us when we say it's worth the splurge for the unbeatable sound quality and sleek design that perfectly complements any Samsung TV or monitor. So what are you waiting for? Upgrade your audio game with the SAMSUNG HW-T450 Soundbar.
Positive
Attractive design
Wireless Subwoofer
Powerful bass
Bluetooth connection with strong signal and no crackling sound
A clear and crisp voice
Negatives
No Audio Return Channel (ARC)
Bose Soundbar 300 (Best for 4k Smart Tv)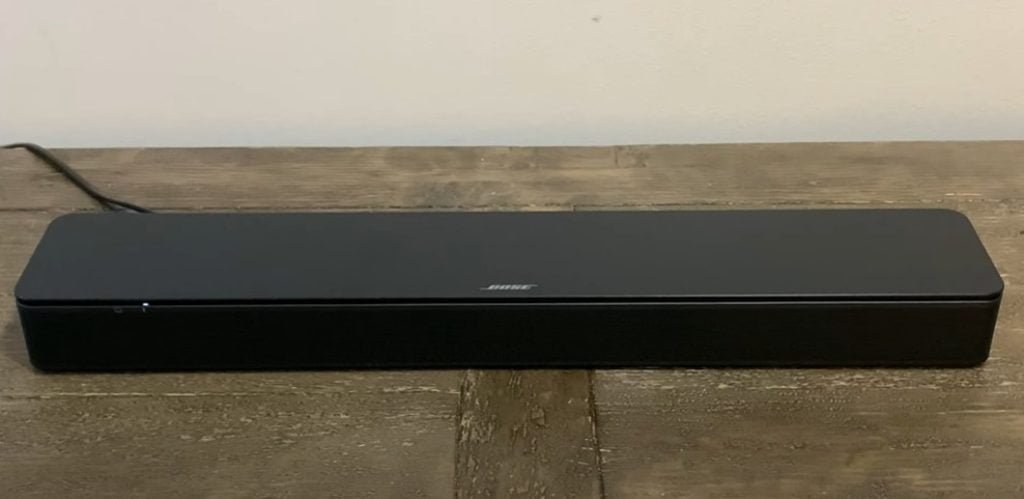 As a self-proclaimed audiophile, I can confidently say that Bose Soundbar 300 is the best soundbar for Samsung 4k smart tv on the market.
Boasting five full-range drivers, the Bose 300 delivers dynamic sound at any volume level. Plus, with its Bluetooth connectivity, you can stream your music directly from your mobile device without the need for any audio cables. And for those who love voice control, the Bose Soundbar 300 is compatible with both Alexa and the Bose music app, allowing for easy control of your music through your device.
But that's not all – this soundbar also features built-in Google Assistant, allowing you to control your soundbar with just your voice. Change the volume, play or pause a song, or find out what's currently playing with just a simple command.
The soundbar also comes with an AC power cord and optical cable, allowing you to connect it to your television or any other device capable of playing audio. The included remote control makes it easy to turn the soundbar on and off, adjust the volume, and switch between inputs. And if any issues arise, the soundbar comes with a one-year warranty for added peace of mind.
Not only is this model easy to set up, it's also portable, allowing you to take your surround sound with you wherever you go. So, whether you're watching your favorite TV show or streaming music, the Bose Soundbar 300 will elevate your audio experience to new heights.
Positive
Provides an incredibly wide clear audio quality with its 5 full-range drivers
Bluetooth connectivity.
Alexa voice control.
Built-in Google Assistant
This 16-inch soundbar is a new model from SAKOBS and has all the features you would expect from a soundbar system. It has different sound modes, allowing you to change the sound quality depending on what device you are using, such as a Samsung TV or computer.
The wireless subwoofer means you don't need to worry about wires or where to hide them. You can move the soundbar around freely and not be restricted by the sound. The subwoofer gives your soundbar a thump of bass that helps bring the sound alive. It's hassle-free, all you need to do is power it on with the switch. It is the best soundbar with subwoofer.
You get 120W of power, which is enough to not only fill the room with sound but some to spare. You can set it up in the corner of a room, turn up the volume and fill an entire house with quality sound. It also has a sleek design that looks great in any living room.
You can connect the soundbar to other devices, such as a wireless speaker or TV, with the help of RCA, Auxiliary, and USB Connectivity. You can even use a flash drive to play music through a USB port. This means you have a variety of connection choices, with the ability to listen to any local or online music you have on your device or computer.
This is a great feature, turning your TV speakers into quality ones by using digital signal processing technology. You can enjoy high-quality sound as if you were in a movie theater or concert hall. It also optimizes the TV audio to give you a quality audio experience.
The Virtual 3D Surrounded sound quality is great for the size of this soundbar. You can hear everything easily without it blasting too loud or quiet. It's great for watching movies or listening to music, especially when you add in the woofer. The sound is crisp and clear which makes it great for both movies and music.
Not only is the soundbar sleek, but it comes with wall mounts. Making it easy to set up in your living room. If you want to watch TV without having it in the way, you can always mount it on the wall and keep it out of the way. You can also use the tabletop stand if you want to keep it on your coffee table or beside your Samsung TV. The tabletop stand is sturdy, so it won't move around while you are watching LED.
The high-sensitivity tweeter drivers help to bring the sound alive. You won't have a dull moment with this soundbar, as it brings your movies and music to life. The volume is also high enough that it can fill your entire house with sound, helping you enjoy your TV or movie even more.
You get a remote control to change the sound settings for your convenience. You won't need to turn on the soundbar, with the use of your TV remote control. Setting it up is easy, thanks to the cinch setup that makes it easier for you to get started listening to music and watching movies with quality sound.
Positive
Wireless subwoofer
Different sound modes
Tabletop and wall mount available
Powerful Remote control
Negatives
HDMI connectivity is not of good quality.
SAMSUNG HW-N300 Soundbar Speaker
This speaker is not only perfect for a smart TV but it is also the best soundbar for Samsung QLED TV. You can connect your TV and soundbar with Bluetooth. It also allows you to play songs from your smartphone or tablet wirelessly on the speaker.
It has a built-in woofer which enables the unit to produce powerful bass so that you can enjoy movies and TV shows at their best. This soundbar has an Integrated USB 2.0 port which allows users to enjoy their favorite music via USB data cable.
The Audio Remote App easily controls the speaker by using the app on your smartphone. You can also use it to turn your smartphone into a music player.
When this system is connected with your TV, it is capable of producing a virtual surround sound experience. The unit is lightweight as it weighs just 5.5 pounds. It is ultra-portable and can be placed anywhere you want in your room.
Samsung provides a warranty duration of one year on the HW-N300 soundbar. The quick start guide helps you in connecting the unit to your TV and setting up the speaker.
This soundbar is easy to set up. You can simply connect the unit with your TV using an Optical cable. Then, insert the batteries into the remote control to turn on the speaker. When you power it up, it will automatically pair to your TV. Next, connect the Bluetooth device with the speaker. Finally, you are all set to enjoy your favorite songs or TV shows on the soundbar.
We recommend this for people who want a speaker that is packed with features and does not cost much and for those who want to extract the best sound from their TV.
Positive
Bluetooth connectivity
Affordable price
Easy to set up
You can control the sound by using the app on your smartphone
Negatives
It produces a hissing sound at high volumes.
Polk Audio Signa S2 soundbar
This speaker model is decent, though unremarkable, because of its extensive features. The built-in Bluetooth technology allows a person to easily connect to a nearby Bluetooth device, such as a smartphone or laptop. No cables are required. You just have to find a device that is compatible with this speaker.
Its wireless subwoofer provides an excellent bass effect without having to directly connect the speaker to an electrical source. The subwoofer can be placed anywhere in the room for increased convenience and flexibility, though it needs to be near the soundbar.
This is an ultra-slim speaker, which means that it is easily connected to the back of any television set. This system is compatible with any modern television set, including a 4K and HD TV. This makes it very much versatile.
This soundbar has a total of five speakers. Two are full-range drivers for deeper bass sounds, while the other three are tweeters that provide a lighter, high-pitched sound. This technology allows for any type of music to come out from the speakers at an impressive volume level.
HDMI & Optical Cables are the most common types of cabling for audio interfaces. They are provided with this model because you don't have to buy them separately. Optical input and AUX connectivity connect various devices to this speaker, including most modern devices.
The exclusive voice adjusts feature easily changes the volume or other audio functions using simple pre-recorded voices from this speaker.
The IR Remote control is another great feature because this allows you to control various aspects of the soundbar using buttons on the remote control.
This model comes with two separate power cords, which provide excellent versatility. This product comes with a registration card. The registration card can be completed by hand, which makes it easier for you to register your product.
Positive
Bluetooth technology
Wireless subwoofer
Two power cords
Registration card
Negatives
Its Bluetooth connection can be improved.
This is an ultra-slim 28-Inch Sound Bar that provides 110dB of high-quality sound.It has 2 bass reflex tubes that help to enhance the bass sounds without an external amplifier, so you will get pleasure from the powerful subwoofer performance.
The Dsp technology provides excellent surround sound with natural, rich bass means you don't need to connect it to a separate subwoofer. Also, it has the sound modes like normal, news, music, movies that you can select as per your need.
Its 3D Equalizer modes provide multi-dimensional sound that is perfect for entertaining yourself at a party, and this mode is beneficial for different genres.
This soundbar has a frequency response is 40-20K Hz, so high pitches are also clear, and you can enjoy the music without any disturbance, also it gives you crispy, loud, and rich sounds.
This unit has multiple connection feature that allows you to connect with your TV or other smart devices through the HDMI, AUX, Coaxial, USB, and Optical inputs.
The built-in four full-range speakers of 20W provide you to enjoy the ultimate sound experience. The Bluetooth 5.0 technology gives the wireless connection between this soundbar and other Bluetooth-enabled devices so that you can place your smartphone near you and enjoy your favorite music everywhere.
Its power adapter of 100v to 240v works on every power socket, which means you can use it anywhere in the world. It has Mount Screws so that you can attach this soundbar to your TV securely. It has different types of power indicators that help you to see it in a dark room.
We recommend that you buy this soundbar if you want to entertain yourself at a party and also get the loud, crispy, and clear sounds.
Positive
High-quality sound
2 bass reflex tubes
Multi-connection
The power adapter of 100v to 240v
Negatives
Mount Screws are not strong enough.
Guide For Buying Soundbar for Samsung Smart Tv
Buying a new soundbar can be confusing, especially if you want to buy one for your Samsung Smart TV.
Soundbars are becoming more popular these days because they give you great audio without the hassle of setting up multiple speakers and wires around your living room. But with so many brands on the market, it's hard to know which one is best for your needs and which things are to be noticed when buying a soundbar.
Our guide will help you sort through all of the features you should look for when buying a speaker for your TV of the Samsung brand.
Size
The first step in choosing a quality soundbar is determining what size TV you're trying to pair it with. Most models will work well from 32″ up through 65″, but some larger ones may struggle if paired with an especially large screen (like 80″ or more).
Connectivity
The second thing to consider is whether you're looking for a soundbar that must be hardwired into your TV, or if you're looking for one that can work wirelessly. The latter is of course easier to install, but you need to make sure your speaker has Bluetooth connectivity and that your TV has Bluetooth compatibility. Then, it should pair with the soundbar automatically when you turn them both on.
Sound Quality
If you're going for a big-screen TV then you want to be sure you're getting the sound quality that matches it, but if your TV doesn't have great speakers then a high-quality model is really what you need to take your audio experience to the next level.
Price
Price is another important thing that should influence your choice when you're buying a soundbar. In case you're looking for a smaller TV then usually less expensive models will do the work, but if it's a larger one, then, of course, you're going to need a better quality speaker.
Power Source
One last thing to pay attention to is whether you need a soundbar that plugs into the wall or if one that operates on a battery will work for you. Obviously, the latter is more portable, but the former is usually easier to install.
FAQs
Do you need a soundbar with Samsung TV?
Yes, you need a soundbar with your Samsung Smart TV because most of the TVs come with low-quality audio.
How can I make my Samsung TV sound better?
You can buy soundbars that will give you the best experience of your money. It has built-in speakers that help to enhance the quality of the sounds.
Are there different types of connections for a Samsung smart soundbar?
Yes, there are many connections available for soundbars including RCA, Optical, or HDMI. You can choose the one that is best suited for you device.
Final Verdict
Samsung TVs are great, but they could be made better. For the most part, the sound quality is pretty bad. Soundbars can help you improve your TV's audio experience without breaking the bank or sacrificing space in your living room.
If you have a tight budget, the Samsung A450 soundbar is ideal for you since it delivers maximum features at a minimal cost.
The Samsung HW-T450 soundbar speaker is a fantastic soundbar with outstanding looks and features if the price isn't a concern for you.
We hope this article was helpful, and we wish you the best of luck in your quest to find a your best soundbar. If you like this guide, please share it with your friends.
Also Read: