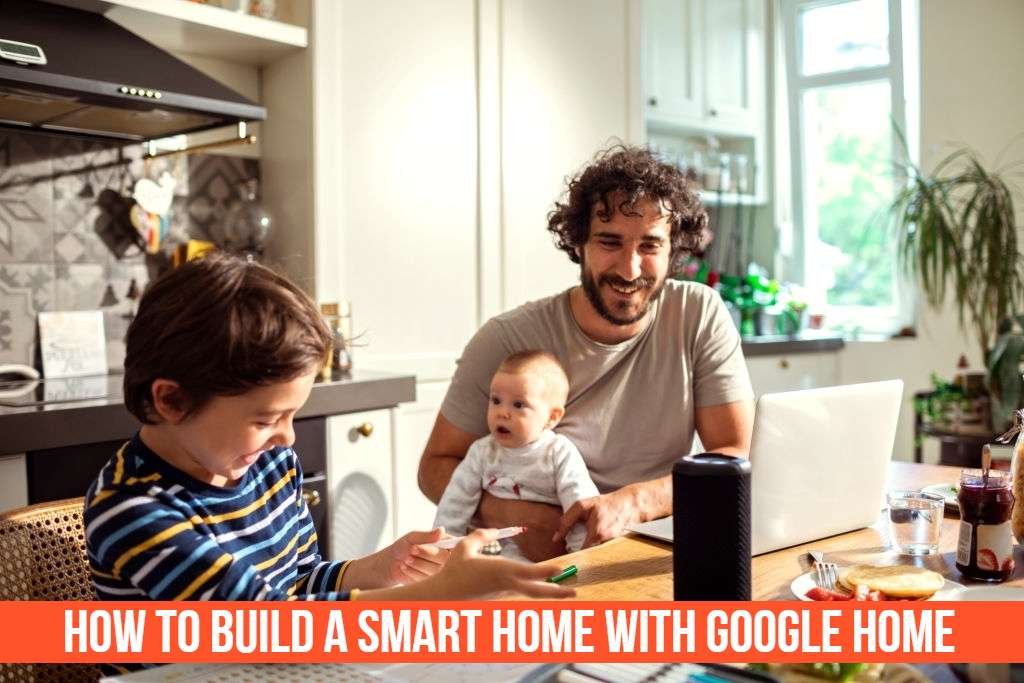 With google home, you can build your own personalized smart home with one voice assistant that controls everything using an intuitive app on your phone or tablet. In this article, I will outline a smart home approach that you can build around the Google Home and how to use it to control your existing systems.
Smart homes are still a new and relatively expensive concept. The average person is not aware of the benefits that they can enjoy with a Smart home or how to build one.
Having a smart home is not easy. There are so many different devices and apps to choose from, and the average person doesn't have time to learn how they all work together.
It's not as hard as you think! You can get started with google home and control your lights, thermostat, door locks, and more from anywhere in the world using an app on your phone or tablet.
With Google Home, you can customize every aspect of your smart home according to your taste by selecting colors, styles, and layouts that suit you best. Once it's done, building a personalized smart home will be easier than ever before!
How to Build a Smart Home with Google Home – My Way
To get started, you'll need:
A smartphone or tablet
A google account
Internet access
A Google Home device
Step 1 – Get set up the Google Home App on your phone
Begin by installing the free Google Home app on your Android or iOS smartphone or tablet.
Google Home app is a free, easy-to-use app for your mobile device. You can control your smart home devices and manage your routine with Google Assistant on your phone or tablet.
The app works in two ways:
Using your voice (ok Google or Hey Google)
Click an icon on the screen to turn your devices on and off
Step 2 – Get your smart home set up with Google Home
Note that google home works with a wide range of smart home devices, including lights, locks, thermostats, and more.
How To Connect Your Smart Home with Google Home
The devices that work with Google Home are designed to help you manage your smart home and add convenience to your life. Some devices need to be installed by a pro, while others are simple to set up yourself.
The Google Home app is the central point of your smart home system, allowing you to control your devices on the go or at home, with just your voice.
Google Home can work with these types of smart home and internet of things (IoT) devices:
Smart lights – Control your light bulbs, lamps, and other smart lighting.
Smart plugs – Control the power to your electronics with these plug adapters.
Smart thermostats – control the temperature in your home or office. Multi-room audio – Connect speakers to play music throughout your home.
Smart door locks – Use your voice to lock and unlock doors.
There are 100's of more smart devices that work with Google Home. Check out the specification of every smart device you add to your home, and Google Home will work with it!
Step 3 – Start Your Routine with Your Smart Devices
Google Home can help you run your daily routines by turning on devices or playing music.
For example, you can say 'Hey Google, good morning!' to turn on the lights in your kitchen and living room or ask 'Hey Google, play jazz music' to start playing jazz music on a multi-room speaker that's connected to your Google Home device.
Are you interested in more routines? Check out this article for all the ways you can use your Google Home Routines to make your life easier.
There are many other things you can say to play music, control smart lights and switches, get the news, weather, traffic, and more using the Google Assistant on your phone or tablet.
Step 4 – Set Up Your New Google Home Device
You can set up Google Home to play music, manage your smart home, and more.
Open the Google Home app on your phone or tablet.
If you don't already have a Google Account, sign in with your email address and password or use one that you've already linked to your Google Home.
Then, select 'Set up a new device' from the bottom of the app screen.
Next, follow the instructions to connect your Google Home. You'll need to plug it in and hold down the microphone button while you say, "Hey Google."
The Google Home app will then automatically detect your device and show you how to connect it.
Step 5 – Get the Most Out of Your Google Home Device
Google Home is always getting smarter, and Google Assistant is adding new features every day.
Since Google Home is designed for you to talk, you can say a lot more than just 'Ok Google' and 'Hey Google.' Here are some examples of what you can say:
Good morning!
Get the weather today.
Say what you need.
Do I need an umbrella today?
Set a timer for 20 minutes.
How much time is left on the timer?
What time is it in London?
Set a repeating timer for every weekday at 6 am.
Benefits of using google home For Smart Home Automation
There are countless benefits of using Google Home, including the ability to:
Speak naturally – just say 'Ok Google' or 'Hey Google' instead of searching for a command.
Have an audio conversation – ask 'How much does a Tesla cost' and follow up with 'how much do they cost in Japan?'
Control your smart home devices – dim the lights, play music, or lock the front door.
Set reminders – set a reminder for that upcoming meeting or to pick up more milk.
Keep track of your schedule – ask when your next appointment is and add events to your calendar.
Have a natural and interactive chat – ask 'what's the weather like today?' or 'tell me about the most interesting things that happened today.'
Get answers from Google – ask 'where was I born' or 'how many ounces are in a liter.'
Listen to music – find out which song is playing, discover new artists, or play a playlist.
Play games – test your trivia knowledge or have a game of 'Simon says.'
Get directions – navigate to your next meeting spot, whether it's across town or across the world.
Google Home or Google Nest don't just make your life easier; they can also help you save money on your energy bill.
For example, you can say, 'Hey Google, set a 5-minute timer for when I leave this room and turn the lights off,' or 'Hey Google, set a 30-minute timer for when I go to bed and turn the thermostat down 10 degrees.' Then, you can relax and know your home is more energy-efficient.
Check out these tips on how to save money with Google Home.
FAQs
Q. How much does it cost to run a Google Home device?
There is no monthly cost or yearly cost whatsoever. Just plug it in and enjoy all the features. Moreover, their energy consumption is extremely low as compared to the other systems like TV, Laptop or PC. According to statistics of the US Energy Information Administration, it costs less than $3 per year to run Google Home.
Q. Where can I buy a Google Home device?
Amazon is the biggest online store, and you can buy a Google Home there. But, you can also find it in retail stores like Best Buy and Walmart.
Q. How does Google Homework?
The device gets activated by your command 'Ok Google' or 'Hey Google. Google Home responds to voice commands and also by touch control.
Q. What is Google Nest?
Google Nest is the new name of Google Home.
Q. What's better, Google Home or Alexa?
Well, it depends on you. Both devices are excellent in their own way, so if you like the features and User Interface of Google Home, then you should go with it. But, if you like Alexa better, then you can go with Amazon Echo instead of Google Nest.

Both devices have some differences in their features and services. Sometimes, the Amazon Echo is better than Google's Nest, while sometimes it's vice versa.
Q. Does Google Home listen to you?
No, Google Home doesn't listen to you unless you say 'Ok Google' or 'Hey Google. It waits for the command and then starts listening to you.
Conclusion!
Google Home is the latest and greatest way to bring your smart devices together into one simple voice-controlled system. You can use this device in tandem with Nest, Philips Hue lights, August locks, or any other compatible product.
Now that you know how to set up a google home for maximum compatibility with all of your favorite products and services, you can start enjoying your new device!
Whether you want to design a smart home, troubleshoot the Google Home app, or just learn more about what it can do for you, our blog is here with all of the tips and tricks.
We hope this article has given you some clarity on whether or not Google Home will work well in your household.
Are there any other topics related to Smart Home tech or devices that you would like us to cover on our blog? Let us know by sending an email through the contact us page!
Check this guide on: How to connect Google Home to Smart Tv