Are you searching for the best cheap smart home devices to control your home appliances? Then you will get a lot of help from this article.
Smart home automation is the latest trend in home automation. The technology has already reached our homes, and it is now possible to control various appliances and devices using just our smartphones.
As the cost of smart home devices continues to drop, there has never been a better time to invest in one or more of these devices for your home.
While the high-end smart home setups might be out of your financial reach, there is plenty of mid-range and even some low-cost devices that can provide you with many of the same features.
In this article, we will take a look at some of the best smart home devices that can help you with everything from controlling your home lights to locking and unlocking your front door.
Let's get started!
Best Cheap Smart Home Devices – Our Top Picks!
When it comes to smart home devices, there are a lot of different options on the market today. You can find devices that range in price from a few hundred dollars to a few thousand dollars.
However, you don't have to spend a lot of money to get a great smart home device that will help you save money, time, and even potentially save lives.
Here are our top recommended products.
At this point, Sylvania has a long line of products so it's no surprise they have a smart bulb. The smart bulbs are available in both A19 and BR30 form factors, and each can be controlled with voice commands using Amazon's Echo, Alexa, Siri Shortcuts, and Google Home.
With these light bulbs, you can program routines, alarms, and bedtimes and can keep your home secure and safe at any time, anywhere even while traveling. Plus with these bulbs, you can redesign your lighting to accommodate your moods, activities, family rooms, home office, recreation, and family rooms, and more.
You will like that this product features a range of lighting, color, and dimmable features so you may control the atmosphere in any room at home.
Now you can choose from 16 million colors and adjustable whites for a soothing ambiance and any occasion, and you can even set up automatic timers for your children to help them get the routine they need in the morning.
Moreover, the overall life of these bulbs is expected to last for more than 15,000 hours. The company is offering a 3-year warranty that shows its commitment to the quality of these light bulbs.
Please keep in mind that you must be connected to a 2.4 GHz Wifi network to control this item and it must be a secure network. It can be dimmed with the app or by voice control with a smart speaker.
Sierra is among best smart diffusers that uses intelligent aromatherapy to detect changes in the environment, and then they release the right amount of essential oil to help you relax, focus, or energize.
These devices also work with other smart home devices to create an integrated ecosystem of connected products that work together. For example, you might get an alert on your phone if the temperature in the baby's room goes out of a set range. This can be used with humidifiers and fans to automatically adjust the humidity or airflow in the room to keep the baby comfortable.
This type of vaporizer is often used in smart home devices, as it is a more efficient way to heat and vaporize liquids.
Its main advantage is that you can vaporize at lower temperatures without damaging the active ingredients. This means that you get a more pleasant and healthier vape and it is also better for the liquids.
Lepro is some of the most advanced, innovative devices and smart home devices under $100 on the market today. It offers a wide range of features, and we were very impressed with their performance.
The device is designed to make your home smarter and more efficient. They can be used to make your home safer, monitor energy usage, water usage, and many other appliances. As if all of these great features weren't enough, they are also very affordable.
One of the things we loved about Lepro was its easy-to-use app. With the app, you can control all of your devices, set up schedules, and even receive alerts. You can also use voice commands with Amazon Alexa and Google Assistant to control your devices.
What most people love about this device is the 16 million colors of white light by which you can set the mood of your home with just a tap.
The tunable white light has 2700K-5700K of color temperature so you can set the mood to whatever you like. Whether you're looking for a romantic atmosphere, or just want to relax after a long day at the office, it is an amazing device that can be used for almost any situation.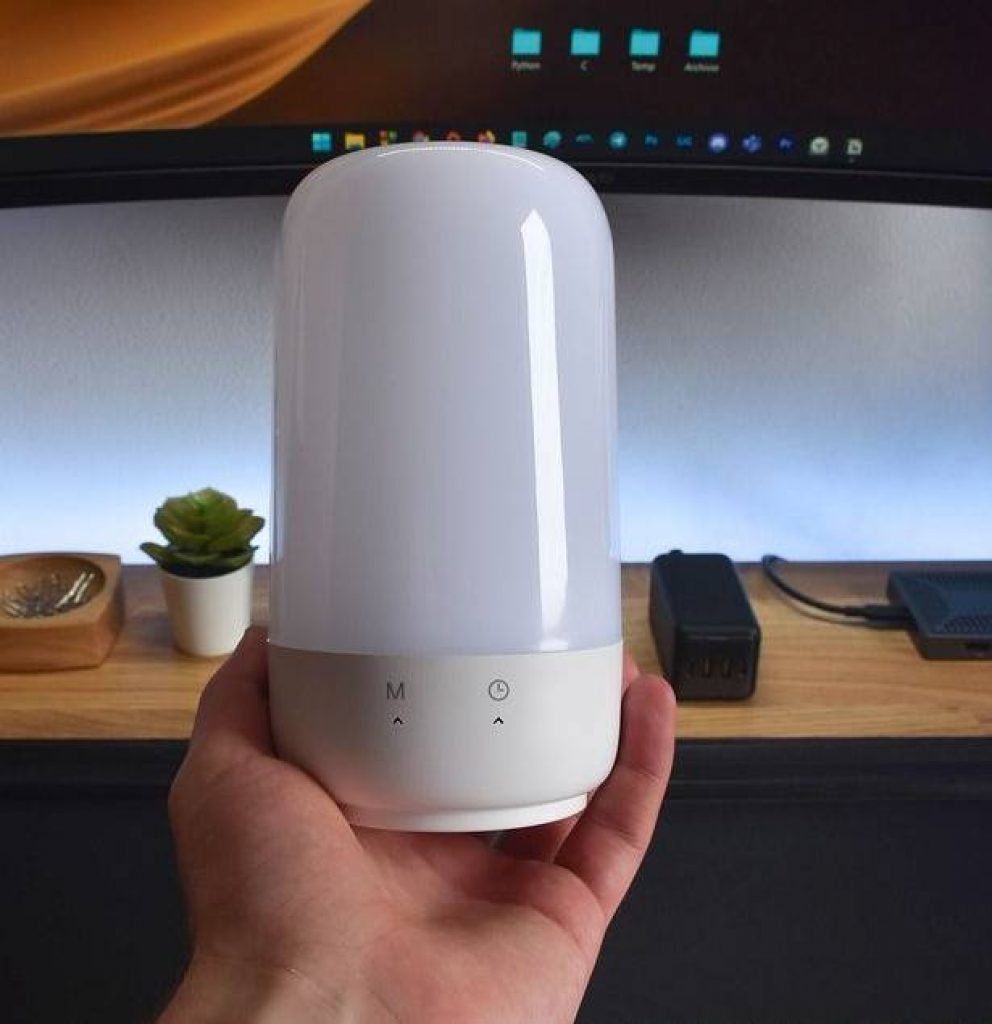 There are no limits to the LampUX smart lamp's capabilities with the help of which you can choose each of the five distinct light sources (cool energizing daylight, warm soothing light, amber night light, and so on) has a variety of effects, colors, and brightness.
Kasa switch allows you to manage your lights, ceiling fans, and other fixtures from any location with the help of a smartphone.
The wiring has been designed with a simple installation in mind plus neutral wire is required, and the wall plate size is standard. There's no need to comprehend complicated switch wiring or master vs auxiliary switch differences because the single white wire is used as a hot connection for the switch.
Furthermore, the Kasa app is available for both Android and iOS devices. You just need to download it from the Google Play Store or App Store, sign in or create an account, and follow the on-screen instructions.
Once you have the Kasa app, you can turn your devices on or off, dim the light, change the color, and even set schedules. You can also monitor your energy usage and get real-time updates on your devices.
You can also set the smart switch to turn on and off automatically according to a timer or countdown schedule and can also set up 'away mode' to activate and deactivate automatically to deceive potential attackers.
With Amazon Alexa or Google Assistant, you may control your lights with your voice commands and it lets you light up a dark room without having to worry about your hands being full, and is ideal for when you're cooking and need to use both hands.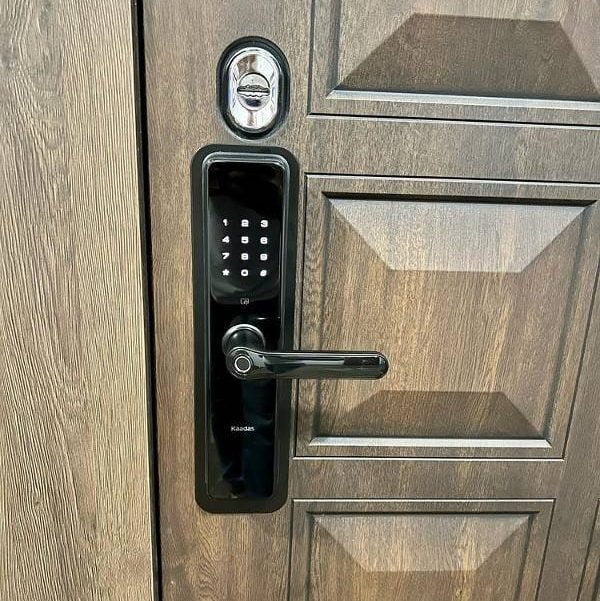 Smonet is a company that makes a wide range of smart home devices. We were impressed with the quality and features of their products. In particular, we loved its deadbolt door lock.
Basically, the deadbolt lock is a keyless, Bluetooth-enabled lock that can be opened with your phone. You can also create temporary codes for guests, which eliminates the need to give them physical keys.
For home security, it can recognize your fingerprint in just 0.3 seconds and unlock the door in 1 second, so you can be sure that only you can access your home. The lock also has a loud alarm that goes off if someone tries to force the door open.
Furthermore, the built-in app lets you control all of your devices from a single interface, so you can easily turn on your locks or alarms with just a few taps. You can also set schedules and receive notifications when devices are activated or deactivated.
Not only will they provide you with security and trust, but they'll also give you new smart home devices that are worth it. Here are four ways to open your door. – App, keypad, fingerprint, mechanical keys, an IC card.
For guests, friends, housekeepers, or staff, this smart code door lock allows you to create a timed, permanent, one-time, repeating code and customized password for your guests.
Echo (4th Gen) smart home sound devices are amazing! The features are incredible and the design is top-notch. We highly recommend these devices for any home. They are easy to set up and offer you endless possibilities in making your home smarter.
It fills the room with a warm, rich sound that automatically adjusts to the acoustics of any environment.
Also, it supports lossless HD audio on certain streaming services, such as Amazon Music HD so that you can enjoy your favorite music and stream it anywhere in your home with ease.
You may also import songs from Amazon Music, Apple Music, Spotify, XM, and other sources and play them through this device. Its built-in hub is also compatible with voice control for outlets, lights, and doors.
Plus, you can also set up compatible Zigbee devices or pick from a selection of Ring Smart Lighting solar lights and bulbs using the app to control your lights, dim them, and more. You can also connect to other Echo devices in your home for a surround sound experience.
The good news is that now you can play synchronized music across these products in different rooms with multi-room music and to experience films come to life with home theater sound, connect this gadget to compatible Fire TV devices.
Sengled smart window and door sensor is among the best low-budget smart home devices in the market. It offers a wide range of products that are both affordable and easy to use.
The company's products work with Amazon's Echo, Google Assistant, Apple's HomeKit (and Siri), and can be controlled either through your smartphone or with the Alexa voice assistant.
Also, the Hub is connected to the rest of your home via Wi-Fi, so you'll need to pair the sensor with it first. For usage, a compatible hub is needed.
You can simply open the in-app information to turn on your sensor. Finally, carefully remove the backing from the adhesive and stick it on any door jamb or window frame.
Another wonderful thing about this gadget is that users may access it from any place in the world. When it is connected to a smart hub, you can easily check the Sengled Home app (iOS/Android) for the status of your window or door so that you can see if it's open or not.
After you try this wonderful smart window and door sensor, we are sure that you will be satisfied with its performance. It is a great way to start automating your home and make it smarter.
Kidde Nighthawk is a smart carbon monoxide detector that is designed to work with Amazon Echo and Google Home.
The device can be voice-activated to provide information about carbon monoxide levels in your home. The Nighthawk can also send notifications to your phone if it detects high levels of carbon monoxide.
The carbon monoxide alarm's display is easy to read, making it ideal for monitoring carbon monoxide levels so that you can take corrective actions to protect your family. This gadget is used to check CO levels between 30 and 999 PPM, as well as show whether the battery should be replaced or not.
Make sure you're ready for any emergency or hazard with the Kidde plug-in carbon monoxide detector, which will protect your family and home. This carbon monoxide meter uses an electrochemical sensor and has a clear digital display screen that shows and records any CO levels in your house's various rooms.
It is a sensitive and transparent carbon monoxide detector that will guarantee that you are protected against this poisonous gas.
Besides that the installation is simple as when you connect the detector to a wall outlet, it can be plugged in any location in your house.
Alternatively, the extension cord can be used to extend the detector to another room. It can also be used in mobile homes, office buildings, and boats.
A red dot will display in the lower right corner and flash when CO detection is acceptable. Plus a test button is also included to check for carbon monoxide levels.
Chamberlain Smart garage door opener is among the best affordable devices for smart home because it is feature-rich.
The creaks are created by a maximum lift power system, which is super strong, dependable, and has the greatest lifting capacity among all 1¼ HP openers in its class and it can work in extreme heat, cold, and humidity.
With the myQ app, you can operate your garage door from anywhere and access information on your mobile phone. You can also receive real-time alerts when it is left open and close and three people can open and close your door from a distance at the same time.
Additionally, the high-strength stainless steel and aluminum alloys are used in the construction of its belt drive that can endure for years of dependability and has a maximum lift power of 4 HP. It is perfect for garages that are attached together.
GE Lighting Cync Outdoor Smart Plug is one of the best cheap smart home devices available on the market. The smart plug works with Amazon Alexa and Google Assistant, allowing you to voice control your devices.
This device generates an efficient schedule for outdoor items such as pool pumps and fountains that turn themselves off automatically, saving you energy.
You can have an ideal patio in minutes as with just one touch, you may create a patio environment that matches your style with your string lights, garden fountain, and other decorations, and also you control each outlet individually or use one of the handy switches.
It has weatherproof outlet covers and is 3-prong compatible to ensure safety and durability. The main benefit of the 3 prongs is that if you have a GFCI outlet in your outdoor area it will work just fine with the smart plug.
You can also quickly make a timetable for your exterior outlets to help you save money on energy while also offering convenience.
The Wyze app remotely controls the camera using a smartphone or tablet, allowing you to see the entire room quickly.
Simply connect the sensors to your phone and download the app. You can also view a room automatically by creating four predetermined waypoints. It has three different moving functions like panning, tilting, and zooming. Panning has a 360° left/right rotation range, as well as tilting has vertical up/down the range of 93°.
You will be surprised to know that 12 seconds of motion are recorded every 5 minutes for free by Wyze Cams. Moreover, the video quality of this camera is very high.
This night-vision HD camera, with its advanced image processing system, can capture bright color video in environments that are up to 25 times darker than traditional security cameras.
It captures live video in full 1080p HD from anywhere and it also scans your property in real-time that is just similar to when you have a virtual burglar check on your home. All in all, this camera supports both Amazon Alexa and Google Assistant, so you can ask either one to show you the live feed from your camera. It is a great value for the price and it is perfect for anyone looking for an easy-to-use home security camera.
Govee Smart LED Light Bars are some of the most popular on the market right now. They are a great option for anyone looking for a bright, durable light bar that can be controlled remotely.
We loved that it uses RGBICWW technology to create rainbow-like light effects from 16 million colors, which are then displayed on the screen. Now you can create your light effects with DIY mode or use dynamic presets to enhance your gaming experience.
These light bars when using an internal high-sensitivity microphone can react and shift to the rhythm of your music that's playing. This is a great way to add some more fun and excitement when playing games or listening to music with friends.
Moreover, the Alexa and Google Assistant through the WiFi can be used to easily control the functions of these gaming light bars, making for hands-free operation, including on/off, brightness, colors, and even music synchronization.
The Google Nest thermostat is a great addition to your home. It's easy to use and can save you money on your energy bill and is also a great way to help you live a more sustainable lifestyle.
You don't have to program it anymore as it learns from you and programs itself with auto-schedule. The auto-schedule feature is great because it learns what temperature you like to keep your home at during different times of the day and week.
We loved that it doesn't heat or cool an empty home so the temperature is adjusted when you're home and not when you're gone. The users can easily control this product using a Nest app which can be downloaded from the Google Play Store.
Weighing just one pound, it can be mounted on the wall or just placed on a flat surface and you can also carry it anywhere with you. According to several independent studies, Nest thermostats helped customers save 10% to 12% on heating and 15% on cooling.
Its lightweight, durable high-quality construction and Bluetooth technology make it ideal for mounting to your keys, bag, wallet, glasses case, or any other item that you don't want to lose.
If you think your lost object is close by, press the ring button on your phone and listen for the sound to reach its designated volume. Then, follow the sound to your lost object.
This takes you step-by-step to the missing item and includes a visually appealing approach for finding it with a SmartTag+ Ringtone Sound Alarm.
The smart locater also has a sensor light, which illuminates and glimmers when you approach the destination. It shows you how to do it on your phone using the SmartThings app.
When your tagged object is out of range. There is no need to worry about that. Even if you are offline, the Galaxy Find Network can use scanned beacons to help you find your lost belongings.
The long-range, low-power system is based on LoRa technology and offers the market's longest receiving range (1/4 mile).
Its long-range coverage allows it to be used in places where most residential Wi-Fi systems can't go such as cellars, sheds, underground garages, outdoor porch/patio areas, and also the remote outbuildings on your property.
Now you will get alerted of the current temperature and humidity in critical equipment and rooms, as well as receive real-time notifications based on your specified criteria.
In addition to that, the temperature and humidity in your home are shown on the YoLink app, along with historical graphs, so you can check current and past temperatures and relative humidity. Plus you can receive email and smartphone banner notifications according to your preferences, as well as custom notification settings when a pre-set amount is achieved.
FAQS
Conclusion
Smart home devices are a great way to get started in the smart home market. They offer a lot of features with cheap hardware. They are also a great way to add automation to your home. Also, they are great if you need to integrate some device from a different home automation system into a home assistant.
If you are looking for a cheap smart home device, but you aren't sure what to buy, we would recommend one of these three devices. All three are reasonably priced and have a good range of features.
Google Nest Smart Thermostat for Home, Govee Smart LED Light Bars, and Kidde Nighthawk Smart Home Devices (Carbon Monoxide Detector).
We hope this article has helped you in your decision to purchase a smart home device. If you have any questions or comments, please leave them below.